Latest Update (October 21, 2021)
As estimated by us, Android 12 for eligible Pixel phones rolling out during Pixel Fall Launch event on October 19, 2021. Yes, Android 12 is now available for Pixel 3 and above devices (Pixel 3, Pixel 3 XL, Pixel 3a, Pixel 3a XL, Pixel 4, Pixel 4 XL, Pixel 4a, Pixel 4a 5G, Pixel 5, and Pixel 5a).
Google launched Pixel 6, Pixel 6 Pro and Pixel Pass during Pixel Fall Launch event. Pixel 6 and Pixel 6 pro are coming with Android 12 pre-installed and these phones will get Pixel updates for 5 years.
Android 12 has arrived with many Pixel-first features making Pixel phones more helpful, secure and personal. Android 12 Pixel-first features include Material You, new and redesigned Widgets, Privacy Dashboard, Security Hub, Scrolling Screenshot, Quick Tap, Gaming Dashboard, Enhanced Gamming, At a Glance, Search Your Phone and Emergency SOS.
Not all these features are available to all Pixel phones. You can find more information about feature availability per device below where Pixel-first features are explained in detail.
________________________________
We all were expecting Android 12 for Pixel may arrive October 4. Google has released Android 12 to Android Open Source Project (AOSP) on October 4. It means Android 12 source code is now available. But Android 12 is not rolled out to Pixel phones yet, Of course, not even any other Android phones.
As mentioned in Android Developers Blog, Android 12 stable update will be available in the next few weeks starting with Pixel phones.
We assume Android 12 stable update would be rolled out to eligible Pixel phones around October 19, the date Google has planned Pixel 6 series launching event.
We'll update here once the Android 12 becomes available for Pixel phones.
Bookmark (tap ⭐) this page or follow us on Twitter or Instagram for the latest updates.
________________________________
With the release of Apple's new line-up of the iPhone 13 and iOS 15, Google is not stepping down in the competition. Google is going to release Pixel 6 Series and Android 12 within a few weeks.
Google has finally released the fifth (final) beta of the Android 12 OS to the public with brand new features, customization options, and upgrades.
Android 12 for Pixel is available for download and installation in Beta, making the users extremely excited about the prospect. The new OS is also available for a few other OEMs to be downloaded.
Although not officially confirmed yet, but the Android 12 release date for Pixel is expected to be October 04, 2021, as mentioned on XDA.
InsideTechno also assumes October 4 as Android 12 release date because Google releases monthly Pixel security updates on the first Monday of each month. And the first Monday of the month of October is falling on October 4, which is pretty relevant information at this point.
Here is the list of Pixel phones eligible for Android 12 update.
Pixel 3
Pixel 3 XL
Pixel 3a
Pixel 3a XL
Pixel 4
Pixel 4 XL,
Pixel 4a
Pixel 4a (5G)
Pixel 5
Pixel 5a
Pixel-first Android 12 Features and Availability
Following are some of the standout Android 12 features for Pixel phones that are worth considering:
Material You
This is an updated version of the Material Design language from Google. This is an upgrade to the user interface since 2014. Besides Google Pixel 6 and Google Pixel 6 Pro, this new feature will rule out Android 12 that is rolled out 0n October 19, 2021.
Material You Feature Availability: All eligible Pixel phones (Pixel 3 and above)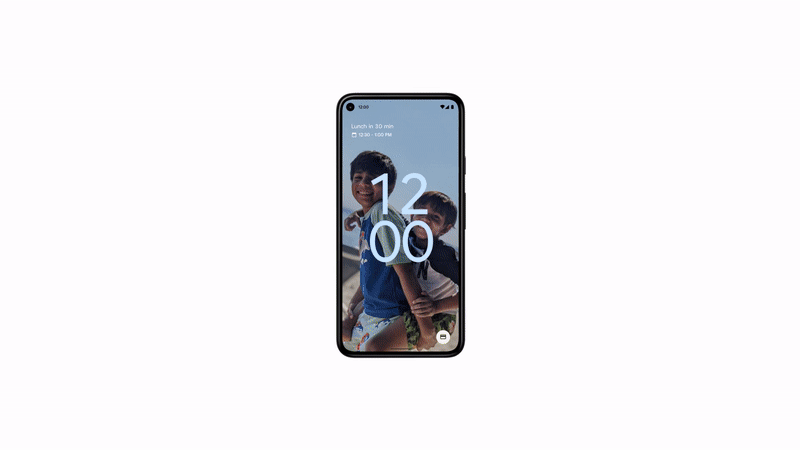 Privacy Dashboard
When discussing privacy features in the Android 12 for Pixel, the operating system will come with a range of privacy options, including a Privacy dashboard, which will enable the users to have a clear timeline of the apps they used in the past 24 hours.
Google has also planned to include a range of transparency features to the microphone and camera access. The users will be able to distinguish when an app accesses their mic or camera. There are also other privacy features with approximate location detection; clipboard read notification along app hibernation.
Privacy Dashboard Feature Availability: All eligible Pixel phones (Pixel 3 and above)



Quick Tap (Double Tap)
Previously known as Columbus, the Double Tap is one of the Android 12 features exclusive for Pixel phones. Not only will it aid in taking a screenshot, but it will also support a range of other functions, including triggering Google Assistant, open notification shade and play or pause a certain media. This new feature is already accessible in Settings under Gestures.
Quick Tap Feature Availability: Pixel 4a 5G, Pixel 5, Pixel 5a, Pixel 6 and Pixel6 Pro
Scrolling Screenshot
How often does it happen that you want to take the screenshot of an entire webpage only ended up not being able to cover it in one screen? This is where the scrolling screenshot feature comes into play. The same is available in the beta version of the Android 12 OS that has been rolled out to the beta testers.
Tip
Some users are reporting that they are not able to take Scrolling Screenshot while capturing a screenshot via 'Overview' screen.
You can take Scrolling Screenshot on your Pixel phones only when you take a screenshots using buttons (by pressing Power + Volume Down button together). By capturing a screenshot using this method, you'll see 'Capture more' button (like it's shown in the image above).
Scrolling Screenshot Feature Availability: All eligible Pixel phones (Pixel 3 and above)
Face-based Auto-rotate
Isn't it easier when you can rotate the screen according to your comfort, especially during bedtime? Well, this is where you can use this new Android 12 feature to custom rotate the screen to better accommodate the needs at the moment.
Feature Availability: All eligible Pixel phones (Pixel 3 and above)
Here is a list of other Android 12 features (available to Pixel 3 and above)
Private Compute Core
At a Glance
Gaming Dashboard
Search Your Phone
Emergency SOS
App Hibernation
Location-free Bluetooth Scanning
Support For Bluetooth LE Audio
Android TV remote
New Emojis
Enhanced Gamming
Past Android Version Release Dates
Android 8.0: August 21, 2017
Android 9: August 6, 2018
Android 10: September 3, 2019
Android 11: September 8, 2020
Android 12  has been rolled out to Pixel phones on October 19, 2021. This is a difference from the official Android OS launches from the past two years. The Android 10 and 11 were previously launched in September, so the launch of the Android 12 in October is a slight delay in general.
Related Articles